Domingo Bosquez Rodriguez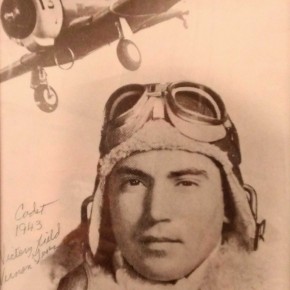 Domingo Bosquez Rodriguez
May 26, 1918- March 17, 2014
Domingo Bosquez Rodriguez, age 95, passed away March 17, 2014 of natural causes at Stonehenge of American Fork. He was born May 26, 1918 in Robstown, Texas to Alejandro Rodriguez and Maria Bosquez. His mother, Maria, died not long after he was born from complications resulting from tuberculosis and was raised by his Grandmother Juanita Grajeda. Even though he often called himself an "orphan" he always recalled how his sisters, in actuality his aunts, doted on him and looked out for him. This contrasted with the unfortunate lack of acknowledgement of his biological father who moved on to raise another family within Domingo's community of origin.
Despite Domingo's lament throughout his life of not being raised by his biological parents, he made his way among a community of loving kin and friends and committed to forging his own life path. Indeed, as a young Mexican American child whose native Spanish language brought upon him public scorn and even punishment in public schools, he learned and mastered English and graduated from Robstown High School, extremely proud to be one of a small number of Mexican Americans to actually do so. He achieved particular notoriety for making a game saving tackle to preserve a cherished victory over rival high school and was honored decades later during a special alumni ceremony celebrating that single achievement.
A few years after graduating from high school, Domingo enlisted in the United States army with a cohort of young Mexican American friends. Domingo always took great pride in being part of the World World II's "greatest generation." Despite not being sent to the front, Domingo's military service helped him develop leadership skills as a Sergeant teaching sharp shooting and earning him the American Defense and American Theater Operations service ribbons, and Good Conduct and Victory Medals. What Domingo was especially proud of was being a flight cadet with the 1050th Army Air Force Base Unit located at Victory Field in Vernon, Texas, regularly recalling his experiences there with and showing photos of himself in his Army Air Force dress to family and friends who visited him in his home.
Not long after his demobilization in November 1945 from Fort Douglas, Utah, Domingo met and courted his future wife to be, LuDean Butler. Once he convinced her she was his desire, they married and lived briefly in Provo, Utah where their first child, Mary, was born. He attended Brigham Young University studying Spanish, supporting himself and the family painting houses with his father-in-law, Hyrum Butler, but eventually had to leave his studies before graduating in order to work full-time at Pacific States Pipe Cast Iron Company in Provo, Utah to support his growing family responsibilities. He and LuDean eventually settled in nearby Springville where their last three children, Randy, Juanita, and Rodney were born at their home in West Springville with the assistance of a wonderful midwife, Dr. Foote, who made these last three pregnancies and births especially meaningful for LuDean and Domingo.
Domingo worked hard his whole life from the time he was a boy shining shoes for a nickel or dime to his tireless dedication of thirty-one years as a steel worker at Pacific States. It reflected his ongoing efforts to make the lives of his children better than his own. But raising children who valued work as he and LuDean did was also exemplified and reiterated by the couple's establishment of the once popular Siesta Village Mexican food restaurant in Springville, Utah. From the mid 1960s to mid 1970s Domingo and LuDean poured their hearts and soul into this part-time endeavor as if it were a full-time passion, creating a Tex-Mex style of cuisine that was so appealing to the local inhabitants that it was the local gustatory habitus of choice for Mexican food lovers every Friday and Saturday from five to ten pm. It was so popular that such popular cultural luminaries as Robert Redford made it a site where he could entertain out-of-town actors and big-whig Hollywood types, sharing Domingo's Tex Mex joy. And despite Domingo's occasional impatience with his young boys' making the restaurant just another place to play, especially during BYU football and basketball game broadcasts, all his children benefited from the chance to learn as a family about the value of work.
His dedication to family and community extended far beyond the sometimes mundane responsibilities of paid and vocational labor. As retiree and grandpa, he relished the opportunity to assist his children and grandkids with whatever they needed, often serving as on-call taxi service for grandkids needing rides to school, looking out for neighbors in need of a hand, or just driving down to Pacific Horizon Credit Union (being one of the original founding members there) or barber shop to share some wisdom and catch up on local happenings.
He was a close follower of his children's activities with special interest in his boys' participation in baseball and basketball, was always ready to throw a baseball or football with them, and take them to BYU football games through the "Knot Hole" gang entrance. His pride in his physical and sports capacities was highlighted in a successful high school football career and later playing days for the BYU football program under Eldon Fortie  which ended prematurely in part because of knee injuries and having to leave school before graduating in order to work full-time.
Domingo's membership in the L.D.S. Church and his belief in God were always important motivational and organizing forces in his life despite the fact that his participation became less regular later in life because of physical and cognitive decline. His appreciation was deep for those special ward members and friends who would call on him to check on his well-being including Morrell and Carma Dean, Gene Mangum, and Irvin Bassett. He was also thankful for the Church's teachings that helped him and LuDean raise thoughtful and principled children.
But most important to Domingo after all is said and written about him was his devotion to and love for his wife of over fifty years, LuDean, and their five children—Mary, Peggy, Randy, Juanita and Rodney–who have lived full, dynamic lives. His life with them was passionate, full of music, art, sports, and ideas. How much was intended or simply the byproduct of creative chaos would be anyone's guess as it is with any family. Perhaps it was his personal commitment to freedom and obedience as the household head and provider that combined with LuDean's special musical (piano and song), art (painting, scrap booking), cooking, and general homemaking skills to create a fruitful family dynamic where their children found and developed their identities as highly successful parents, educators, and caregivers.
Mostly, though, the seemingly little things meant most to Domingo personally and in his family relationships. After a tough work day at Pacific States or Siesta Village and deep into retirement, just settling in for a good mutual foot rub with LuDean or giving a thorough head and back scratching to his children or a little playful teasing of and joking with his family and friends—"el Pingo," meaning "the devil," he told his family, was his nickname growing up in Robstown because of his ability and propensity to tease and inflict discomfort on his intended target—was as good as it got for Mingo.
This part of his life, hidden from public view, was the core of social meaning for Domingo in his family. More nuanced and subtle, it evoked for him a central aspect of individual identity and meaning that carried him through his life. It started in that humble, extended Mexican American family in Robstown, Texas and for inexplicable, unpredictable reasons, ended up in Springville, Utah with that young, skinny "orphan" Mexican American boy becoming a man.
El Hombre
Nancy Ames, Latin Pulse (Side 1)
The Story
Nancy Ames, Latin Pulse (Side 2)
LuDean (Domingo's Desire)
Eydie Gorme, Amor (Side 1)
Family
Eydie Gorme, Amor (Side 2)
Siesta Village
Eydie Gorme, Mas Amor (Side 1)
Vacations
Eydie Gorme, Mas Amor (Side 2)
Military
Education
************************************
Domingo Bosquez Rodriguez
Born: May 26, 1918  Robstown, Texas
Died: March 17, 2014  American Fork, Utah (Stonehenge)
Parents: Alejandro Rodriguez (Father), Maria Bosquez (Mother)
Wife: LuDean Butler (deceased)
Children: Mary Lynn Lee (Daughter, surviving) (Springville, Utah)
    Lois Dawn and Dwain D. Rodriguez (Twins: girl and boy, deceased shortly after birth)
    Peggy Ann Rodriguez (Daughter, deceased)
    Randy Alexander Rodriguez (Son, surviving) Springville, Utah
    Juanita Holman (Daughter, surviving) Springville, Utah
    Rodney Alan Rodriguez (Son, surviving) Los Angeles, California